About Kate McCavitt
Kate McCavitt is an Asian informed Mixed Media Abstract Painter. In her work, East meets West in the fusion of contemporary experimental water media and ancient Asian brush work influences. Kate truly creates her original art "Between Two Worlds".
In her previous lifetime this time around, about four years ago, she owned a corporate Project Management company for about sixteen years and stressed over enterprise voice and data installations which were hot beds of things busting and going wrong. Enough! She decided one day to do something she actually wanted to do. Risking her reason for it, she took her art to a full time adventure.
Trained as a Sumie artist, often called "Chinese Brush", and self-taught in other genres, Kate lavishes all of her colorful, textured abstract paintings with the subtleties of Asian tradition. Rich layers of fluid acrylics, gloss mediums and metallic gesso capture between them both the random events of experimental techniques, and ancient icons of Zen Circles, delicate chrysanthemum, circling yin/yang figures, and representational foil spheres hand embossed by the artist.
Colors, ratios, numerological philosophies, polarities and sequences all dance together within Kate's unique abstract style. No two pieces can ever be the same. McCavitt's titles for her work are often "Untitled" for she believes the observer will create their own through how they connect to the work. Many of her long "SuiteStickS" pieces also can be hung any way the orientation pleases the viewer.
Kate McCavitt, a native of New York, lives next to a wildlife conservation corridor in Oceanside, California with the love of her life, grandchildren nearby, a resident hummingbird family, and bunnies, egrets, coyotes, bats, crows and hawks. Her studio is in her home and her home is her Catharsis Gallery for showing her work in a beautiful setting. She finds joy in the Artist's Way, in writing and creating art journals, in being a grandmother, in long walks, scuba diving, teaching art and inspiring others. She tries to live by Martha Graham's advice, "You have to keep open and aware directly to the urges that motivate you."
Artist's Statement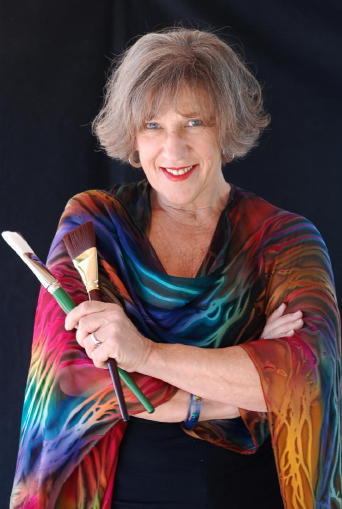 Up until age 40, all my art was practical. Today I look at the delicate crochet work my grandmother did, and I see exquisite art and pattern. I want to use it as a stencil for powdered gold against rich purple. Maybe this IS where my inspiration came from to do embossed foil spheres. All of my art is born of this attention and an awareness that everything in the world is immediately available for me to witness and that allows me to find the extraordinary. My inspiration is the infinite and the infinitesimal and mostly the Ordinary. How lucky we are to know they are all one and the same.
Symbol Hunting is an avocation for me, found in life's small synchronicities. Standing inside the centuries old ritual tomb at Newgrange in the Boyne Valley of Ireland, the spirals carved thousands of years ago in the standing stones, become embedded within me. I can't help it, it just happens and they will inevitably show up in some painting. Diving at 60 feet, floating effortlessly just a foot above iridescent purple tube sponges where neon orange cleaner shrimp and glowing yellow wrasse play around the openings, using only my breath to change my depth, I find my mind expands. It will manifest in my next artwork. Stunning sunsets, sleeping children, light through cobalt or ruby glass, a lover's laugh or shoulder muscle, sea horses, colored sand patterns on a deserted beach all become part of my interior visual library and Iconography. I am very blessed.
Styles
My art is primarily abstract with elements of collage, often wrapping in the Asian influences I studied for so long. I've devoured Oriental Philosophy since the 1960's and studied Brush Painting since 1988. My traditional work stands alone, but now I wrap oriental influences into "Artstories". My fluid, interference, and duochrome acrylic layered abstractions are on both artist wrap and 3" deep stretched canvasses. Many are diptych and triptych which can be rearranged. For texture I engrave foils, mostly spherical shapes and paint them with powdered metals mixed with gloss mediums, or layer them with color over the metallic and collage them on. I also will add gold mica flakes and miniscule glass or metal beads to create a field of contrast. I love the idea of hidden or partly revealed things. I work flat and work on many pieces at a time; that allows for drying and keeps me out of my head about forcing a specific direction too early.
I use bold, pure color, strong contrast and heavy textural elements and hope viewers feel compelled to touch my work to connect with it. Techniques in experimental water media give me the
organic nature resident in my work.
My SuiteStickS are custom canvasses in a "Stick" format, (15"x60", 20"x72") where the width/height ratio is approximately 1:4. One day I decided to try to get some of the consistency that galleries are always looking for and I figured maybe the shape of my canvas was a good way to do it. It allowed me to go a bit left of center with subjects and styles while maintaining a consistent "at first glance" look. Almost all my work is framed now.
I do a lot of small studies to play with new ideas, materials and to push techniques into new territory. I market these as the "Strata Sphere Series" and they are popular because I sell them for a lot less. What I learn doing these, goes into my larger works which take many times over in hours and fine detail work, what the studies require.
Please enjoy this pictorial essay of how I do my art process, playing with techniques in experimental water media, metal reactive acrylics, collage, photo transfer, and unusual embellishment.